- kliknite na sliku za detaljniji prikaz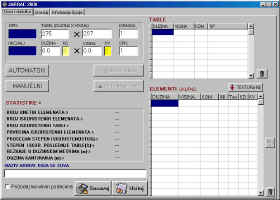 - click on picture for a more detailed view
What is Jarrac2000?
Jarrac2000 is a professional software package, specifically designed for the manufacturing environment. It determines the best way to cut rectangular parts from sheets, coils or bars and produces optimized cutting layouts. Optimized cutting is vital for economic production of cut component pieces. In production Jarrac2000 is an indispensible tool for the user, providing him with all the facilities required to enable the highest efficiency of production.
- a powerful job shop tool
- provides individual solutions
- is easy to use
- gives maximum yield
- makes fast calculations
- pays its way from day one
Sta je Jarrac2000?
Program za optimizaciju rezanja elemenata iz fiksne zadate dimenzije ploce ili tabaka, prvenstveno namenjen za:
| | |
| --- | --- |
| - drvno-preradjivackoj industriji | - skladistima drvnog materijala |
| - stovaristima univer ploca | - metalna industrija |
| - grafickoj industriji za secenje papira | - staklarska industrija. |
Mogucnosti programa JARRAC:
- Optimalno krojenje i secenje elemenata iz jednobojnih ili dizajniranih tabli sa sto manjim otpadom
- Obelezavanje elemenata inicijalima ako iz jedne table secete vise korisnika
- Ubacivanje viskova iz ranijih tabli za novu optimizaciju
- Da sacuvate podatke kroja i kasnije dodate dodatne elemente za optimazaciju na postojecu tablu
- Manuelna korekcija isecenih elemenata da vam ostanu idealni viskovi za kasnije koriscenje
- Stampanje 3, 4 ili 6 tabli na A4